Vogue 1102
Way back in December I needed a special dress to celebrate our anniversary. I was inspired by Vogue 1102. Actually it was TC who first saw this pattern and decided I needed it.
However, after reading reviews, I read that the neckline had some gape issues, and since I would have needed to add sleeves and a back, I figured I'd just use a different pattern for the bodice. Since I had already made Simplicity 2444 (I haven't blogged about the result due to a neckline mishap that still needs to be fixed) and knew what to expect with the bodice, I went ahead and used that pattern for the top, and Vogue 1102 for the full circle skirt.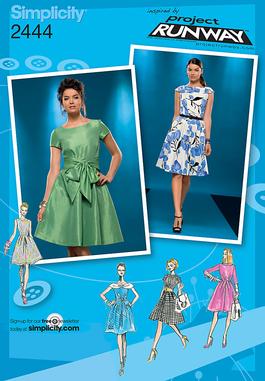 Simplicity 2444
The fabric is a polyester shantung from Hancock Fabrics.
Because of my increased girth, I had to increase the size of the bodice (I had previously cut it in a 12, and needed it to be closer to a 16), but I just eye balled it. Also, I was pressed for time, having waited until the last minute to start on this dress, so I am really really grateful that I didn't hit any snags. The dress was straight forward and fit perfectly. Here's the result.
The awesome thing about this dress, beside the fact that I feel completely beautiful in it, is that the circle skirt provides plenty of room for my baby belly, even as it grows. In fact, I made this dress for our anniversary on December 14, and it still fit last week.
Here's the snag. I did something moronic. This is currently the only dress I have that fits well, so it has been my go-to dress for Sundays. And this last Sunday, I went to iron my sweet dress, forgetting that the iron was on it's super sonic hot setting, and the fabric melted, making a hole in the skirt. Wah wahhhhhhhh!
I was able to quickly scrounge up something to wear for church (thank goodness), but now my beautiful dress is scorched. But I'm sure I can replace that panel of the skirt (it's one of the back panels, so it represents 1/4 of the whole circle) with a new, non-scorched one. I just need to make a trip to Hancock, do some seam ripping, sewing and voila!
I would have liked to get better pictures, which is why I didn't blog this dress earlier, but it will have to wait until I get that skirt fixed.
The dress scorching is a result of one of the symptoms I am currently experiencing: pronounced stupidity. I'm not as smart as I used to be. I'll tell you more some other time, if I can figure out how to type.